Equip Churches Worldwide with Bible Translation Tools
Biblical Content
Listed below are the open-licensed biblical content resources we are creating.
Each resource is made available under the terms of a Creative Commons Attribution Share-Alike 4.0 License.
Click the subject areas below to expand and view the content.
The biblical content we are creating is governed by the following principles.
Without exception, the Church in every people group will have adequate biblical content in their own language.
And Jesus came and said to them, "All authority in heaven and on earth has been given to me. Go therefore and make disciples of all people groups, baptizing them in the name of the Father and of the Son and of the Holy Spirit" —Matthew 28:19
Above all else, we strive for excellence in everything we do.
Do your best to present yourself to God as one approved, a worker who has no need to be ashamed, rightly handling the word of truth. —2 Timothy 2:15
We believe God will be glorified through a movement of Bible translation in every language that cannot be repressed.
After this I looked, and behold, a great multitude that no one could number, from every people group, from all tribes and peoples and languages, standing before the throne and before the Lamb, clothed in white robes, with palm branches in their hands. —Revelation 7:9
Distinctive Features
The unfoldingWord project is committed to these things:
always open — everything we create is made available under a license that irrevocably grants the entire church unrestricted freedom. (Acts 4:32)
biblically faithful — we are committed to clear and accurate communication of God's Word in every culture.
quality media — we enable the church to produce media of the best possible quality that meets their needs.
accessible — all content is freely available and redistributable in suitable formats.
Church-centric — we seek to serve the church in every people group by equipping them for perpetual, self-sufficient translation of biblical content with excellence.
Versioning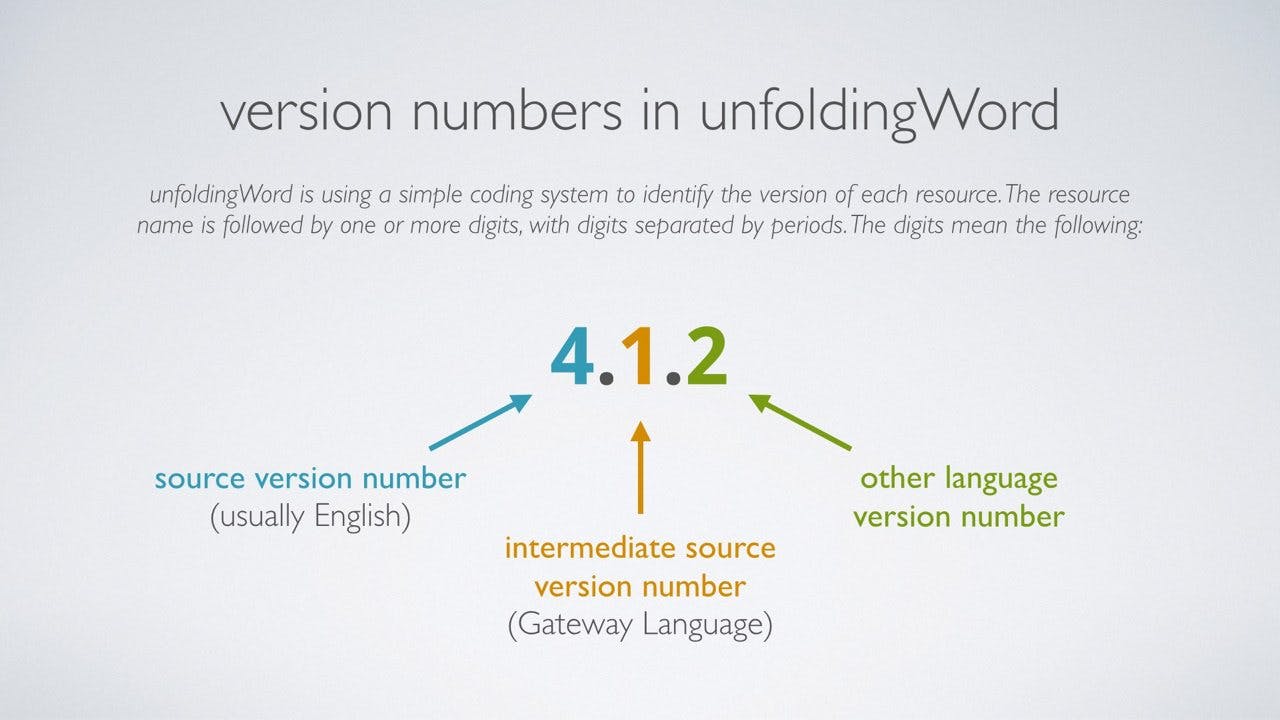 unfoldingWord® uses a simple versioning system to help identify each resource we publish. This versioning system will be used for all resources that are published in the Door43 Catalog which in turn populates our apps. The version number consists of one or more digits separated by periods.
Source Language
The first digit will always indicate the source version. Let's take Open Bible Stories as an example. Since the Open Bible Stories started in English, there is only one digit in the version number for the English OBS:
OBS (en) version 4
If the English OBS gets republished for whatever reason, the new version number will never add a period plus a new number, the same number will increase:
OBS version 4 → OBS version 5 (Not version 4.1)
Translation of Source Language
For any translation of a source text, the version number of the source will remain the same, then a period and a new digit will be used to distinguish the translation. That digit will always begin at 1. For instance, if English OBS version 4 is translated into Arabic:
OBS (en) version 4 → OBS (ar) version 4.1 (Not version 5, Not version 4.0, Not version 4.2)
If a translation is republished for whatever reason, the digit(s) corresponding to the source text remain the same, only the digit referring to the translation increases. In this case, the first digit (4, referring to the English version it was translated from) remains the same. The second digit (1, referring to the revision of the Arabic translation) increases by one.
OBS (ar) version 4.1 → OBS (ar) version 4.2 (Not version 5, Not version 4.1.1, Not version 4.3)
If a translation is made of a translation, the version number of the source will remain the same, then a period and a new digit will be used to distinguish the translation. For instance, if the Arabic OBS version 4.2 is used as a source text for a translation into Sudanese Arabic (apd) it would look like this:
OBS (ar) version 4.2 → OBS (apd) version 4.2.1 (Not version 4.3, Not version 4.2.0)
Updating a Version
If a translation (or source) is updated, all the "downstream" versions are able to see at a glance that one of their source texts has been updated.
In our example above, if English OBS version 4 is updated to version 5, any of the downstream languages (Arabic at version 4.2 or Sudanese Arabic at 4.2.1) will immediately be able to see that English is now at version 5 and all of their translations are based on the English version 4 of OBS and its subsequent translations.
To update their version, Arabic would first have to update their text to match the English OBS version 5.
OBS (en) version 5 → OBS (ar) version 5.1
Note: The digit corresponding to Arabic (the second digit) does not keep increasing (e.g. NOT version 4.2 → version 5.3) but rather "re-sets" when an "upstream" version is updated (e.g. (ar) version 4.2 → (ar) version 5.1).
In this example, Sudanese Arabic would need to update their translation to match the Arabic:
OBS (ar) version 5.1 → OBS (apd) 5.1.1
Technical Details
Published Resources - Versions
All resources published by unfoldingWord follow these guidelines.
All published resources must have a version number. 
Any changes to a published resource results in a new version number.
-- The only possible exception are typographical errors that will not affect the meaning (e.g. punctuation, misspellings). Typos that inadvertently change the meaning should be included in a new version (e.g. "sin on more" instead of "sin no more")
Version numbers increase numerically. 

Drafted Resources - Revisions
Resources that are in a state of flux (e.g. being created, revised, or checked) may be given a revision number to facilitate communication. 
Revision numbers are full integers and follow the version number (e.g. ver 2 → rev 3, OR ver 3.3.1 → rev 4). 
Once a resource is published, all revisions must be removed as all of the revisions are now incorporated in the new version number (e.g. when ver 12 rev 3 is published → ver 13). 
If revisions are needed on the re-published version, the revision numbering restarts at 1 (e.g. when ver 2 rev 3 is published → ver 3, the first revision is ver 3 rev 1 (not ver 3 rev 4)). 

Source Language Versioning
All version numbers are based on the source language. 
-- A notable exception is the Bible, where the source language becomes the language translated from the Greek & Hebrew. The original autographs are stagnant and adding a level to the version number corresponding to these originals only stands to increase the complexity of the versioning system while adding very little benefit. (e.g. the English ULB → ver 1 or ver 8, not ver 1.1 nor ver 1.8)
The version of the source language must be a non-negative integer and should not have a decimal (e.g. ver 13, NOT ver 13.0)
Upon the first publishing, the version number must be greater than zero. (e.g. ver 1)
-- Conversely, if desired an unpublished draft may be considered ver 0 rev 1 → ver 0 rev 2, etc. 

Translations
All translations must keep the version number of the resource it was translated from and add a decimal to that version 
-- e.g. English OBS ver 4 is translated into Swahili. The Swahili translation becomes ver 4.1. If the Swahili translation becomes the source text for a Datooga translation, the Datooga translation becomes ver 4.1.1
-- e.g. Van Dyke version was created in Arabic, thus the Arabic would be ver 1. An English translation would become ver 1.1. 
If a resource is updated, the updated resource must update its version number, all "downstream" translations must not change their version number until their translation is updated to reflect the changes made to the "upstream" resources. 
-- e.g. In the example above, if the English OBS is updated to ver 5, the Swahili remains ver 4.1 and the Datooga remains 4.1.1. Swahili becomes ver 5.1 only when it has updated its text to match English ver 5. And Datooga will only become ver 5.1.1 after it updates its text to match the Swahili ver 5.1.
-- e.g. If after updating its text to ver 5.1 the Swahili translators realize that it needs still further revision, then the new published version would become 5.2. If the Datooga updated their translation to match the Swahili ver 5.2, then their translation would be version 5.2.1. 

Recommendations
It is strongly recommended that change logs be kept between each publishing to ensure ease of update for all "downstream" languages.
It is recommended that large resources be divided into smaller sections that each have its own version (e.g. each book of the Bible instead of one version for the whole Bible).

Benefits
This system allows for easy identification of needed update (if an "upstream" language has a higher version, then the text needs to be updated). 
This system shows how far "downstream" a translation is from the source text (the more decimals, the farther away).
This system begins to show the linguistic "genealogy". 
This system should be simple enough for anyone to understand. 

Drawbacks
This system assumes only one primary source language. 
All minor changes require a complete version change (which runs contrary to normal versioning methodology). 
Stories From the Field
Trust God and Get Going

"God, this is your journey, your work. Please help us get out of here." Let's imagine that your family and close friends have a passing acquaintance with the message of Jesus, and some might even be b...