Equip Churches Worldwide with Bible Translation Tools
Home
>
Chad's Unreached Receive the Gospel with Joy!
Chad's Unreached Receive the Gospel with Joy!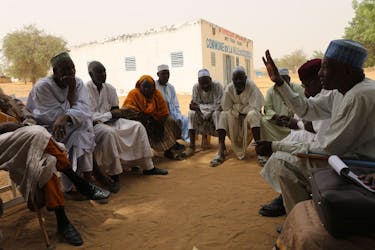 "Giving Jesus to any human being is the best gift you can give to that person. Only the gospel can change the ugliness of man," says Jeremiah,* one of the Chadian leaders of CCGP,* unfoldingWord's church planting and Bible translation partner in Chad. *Names changed for security
Jeremiah knows what he's talking about. "The Bible says man is created in the image of God. Being Christian, Muslim, or atheist, he is precious to God, and he is precious to me. Every human being should be treated according to that perspective. When you see a man dying without Christ, it is something very alarming."
Being fluent in French, Arabic, and English, Jeremiah joined the Whole Bible, Whole Nation Translation movement and eventually connected with unfoldingWord for a project that, to him, seemed unlikely. unfoldingWord® Open Bible Stories seemed too elementary, but he found that the simplified Bible stories translated into the local languages had a powerful effect on first-time listeners.
"We have seen miracles. We have seen adults reacting full of emotion, full of joy! The people in the unreached community that we worked with were all strategic leaders. Some had never heard the gospel." Up to that point, they believed Christianity was corrupt, only for Westerners, and could contribute nothing to their national morality.
Yet, Jeremiah and his team see radical change among whole language communities with each Open Bible Story. They took their first translation 700 kilometers to people who'd never heard the gospel. When the locals gathered for the first community check, they came with a resolve, "Let's see this thing. Let's see what's happening and if they came to deceive us!"
Jeremiah began with chapter one, "God and Creation. Chapter Two, the fall of Man. When we came to chapter three, the story of Noah, like a bag of rice when the car is moving, and the bag is shifting; everybody was adjusting to take in more Scripture! Before we reached the end, we had won the full cooperation of every participant! We ended with joy and laughter!"
That was the first time believers had ever succeeded in bringing the gospel to a large group in that region. "Those elders could have died without ever hearing the gospel once," said Jeremiah, "and it changed their life."
Join the Movement
Your investment will help empower church networks worldwide to translate the whole Bible into their ethnic languages for the very first time.
Give Now
Stories From the Field
Trust God and Get Going

"God, this is your journey, your work. Please help us get out of here." Let's imagine that your family and close friends have a passing acquaintance with the message of Jesus, and some might even be b...