Equip Churches Worldwide with Bible Translation Tools
Home
>
UKRAINE: Bomb Shelter Bible Translation
UKRAINE: Bomb Shelter Bible Translation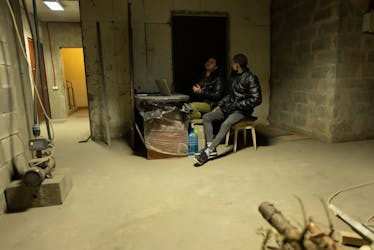 Ukrainian Great Commission partners are translating unfoldingWord's suite of Bible translation tools to make God's Word accessible to more than 540 languages spoken across the countries of the former Soviet Union. That's more than 161 million people who need to hear God's Word in their heart language, not Russian!
But the war in Ukraine creates many challenges to their work.
Mission Network News reports, "Tens of thousands of people are on the move in southern Ukraine after flooding from the destroyed Nova Kakhovka dam drove them out of their villages. More than 6.5 million people have been internally displaced in Ukraine since Russia invaded in February 2022." 
Stephen*, the Eurasian Bible translation team leader, and his family have overcome severe barriers created by the war. They are under rocket attack three to five hours a day and haven't had hot water for months. The attacks often come at night when they are too exhausted to run to the subway bomb shelter. Still, they continue the work. Stephen and the Eurasian team helped lead a three-day Bible translation tools training workshop via Zoom for the Iran Whole Bible, Whole Nation team. Stephen's Eurasian team was excited to help realize the exponential potential of the Church-Centric Bible Translation model. Now, his relatives are in danger from flooding created when combatants demolished the Nova Kakhovka dam. Stephen cannot contact them. Please pray for their safety and the translation team's ability to continue this strategic, high-impact work.
Join the Movement
Your investment will help empower church networks worldwide to translate the whole Bible into their ethnic languages for the very first time.
Give Now
Stories From the Field
Trust God and Get Going

"God, this is your journey, your work. Please help us get out of here." Let's imagine that your family and close friends have a passing acquaintance with the message of Jesus, and some might even be b...