Equip Churches Worldwide with Bible Translation Tools
Home
>
Making God's Word Accessible to Ordinary People
Making God's Word Accessible to Ordinary People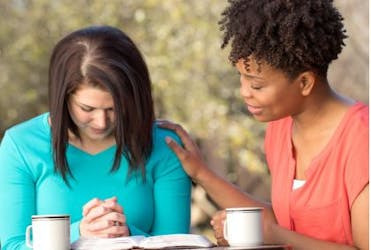 Sofia Ivanov speaks on the impact of unfoldingWord's Bible Translation tools 
Editor's Note: Sofia Ivanov* is a project manager for unfoldingWord's Eurasian Whole Bible, Whole Nation partner. Her thoughts on the impact of unfoldingWord's Bible translation tools in Eurasia follow. *Pseudonyms used for security
Bible translation is vital for three reasons. First, it puts God's Word into a language ordinary people understand. 
God's Word ministers to us differently, depending on our season of life. For example, I love the story of Jesus healing a woman who had been sick for 12 years. Then, in great kindness, Jesus healed her. The story did not speak deeply to me until a friend lost her husband. It was very painful, and we cried together a lot. Then I understood that God is a healer, and he is speaking to us through this story, "What are you feeling right now? What crisis are you facing? I'm already there and care deeply for you in it." That story ministered powerfully to us during that time. It's real-world stuff. Our work brings those Bible stories to minister to the ordinary people of Central Asia every day. 
Second, unfoldingWord's tools help us translate the Bible accurately. Much of our work is for Muslim-majority populations. Muslims criticize Western believers because we have so many Bible translations, saying, "It cannot be accurate!" It is crucial to show Muslims that we do it accurately. And we can.
Third, unfoldingWord's content and training make Bible translation possible for the ordinary person. You don't have to have a Ph.D. in linguistics to do this. We can tell Eurasian church-planting networks who want to translate the Bible for themselves, "You can start today, right now!"
Join the Movement
Your investment will help empower church networks worldwide to translate the whole Bible into their ethnic languages for the very first time.
Give Now
Stories From the Field
Trust God and Get Going

"God, this is your journey, your work. Please help us get out of here." Let's imagine that your family and close friends have a passing acquaintance with the message of Jesus, and some might even be b...