Equip Churches Worldwide with Bible Translation Tools
Ten Times Faster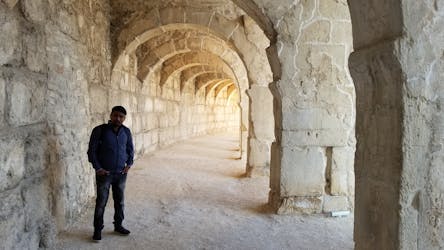 Imagine you are ordering a new internet connection or cable TV or maybe something new from Amazon and you get the message saying, "Your town is too remote and we can't serve your area at this time. We might be able to do this someday, but it will take at least 20 years." Frustrating, right?
For the last 50 years, that's what millions of people who need a Bible in their language have been hearing. They want the Bible badly, but the historic model of Bible translation has suffered from limited capacity. The translation model was dependent on sending highly trained experts to the language area; they spent their resources on a limited number of translation projects.
unfoldingWord's tools are helping isolated and marginalized people groups get the Bible faster by equipping and training them to translate it for themselves. How much faster? Amos, a quality assurance checker from a people group in South Asia, explains how. He uses unfoldingWord's Bible translation alignment software, translationCore, every day.
"translationCore was a dream come true for me. I never thought we would have software enabling us to focus on a single word and do a word-for-word match with the Greek and Hebrew. I had dreamed about it, that there should be software like that. Then I learned it exists! I feel very privileged to work with it."
Amos continues, ""translationCore helps not only with original language alignment but also with links to articles in translationAcademy covering how to translate figures of speech, things most people don't usually know. It helps Bible translators to know that their language has similar figures of speech to biblical ones."
And it's fast! "We used to check translations manually, word by word and verse by verse. But translationCore is software based and faster. For example, if you are checking manually, it takes a whole day to check a few verses. With translationCore, we can check 100 verses per day."
Finally, Amos appreciates unfoldingWord's collaborative approach. "The unfoldingWord team is always willing to hear our suggestions about the software and implement them. We are very happy with it."
Join the Movement
Your investment will help empower church networks worldwide to translate the whole Bible into their ethnic languages for the very first time.
Give Now
Stories From the Field
Trust God and Get Going

"God, this is your journey, your work. Please help us get out of here." Let's imagine that your family and close friends have a passing acquaintance with the message of Jesus, and some might even be b...