Equip Churches Worldwide with Bible Translation Tools
Home
>
Jeremiah and the Occult King
Jeremiah and the Occult King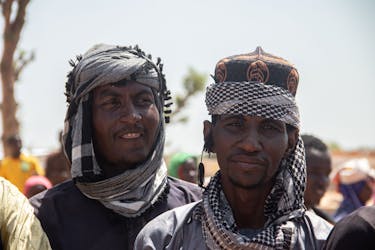 When Jeremiah* first heard that his Chadian church-planting network needed his help translating unfoldingWord® Open Bible Stories (OBS), he was skeptical. "I thought Bible stories were for children, like the stories Grandma and Grandpa told around the fire." But when he first read Open Bible Stories, he thought, "This is brilliant! It tells the whole Bible and the story of Christ in simple, easy-to-understand language very quickly."
*Names changed for security.
Soon, Jeremiah was translating Open Bible Stories, unfoldingWord's Bible translation primer, into Chadian Arabic, the national Gateway Language. Now that Jeremiah's team has translated OBS into Chadian Arabic, they have the tools to train people from all 78 of Chad's unreached people groups to translate OBS into their languages, use them for evangelism outreach, and then move into Bible translation for their people.
One such unreached group* is known for violence against Christians. Still, Jeremiah and his team took an audio-visual Open Bible Stories slide deck in that language to that group for its first community check.
When visiting a village, African custom is first to see the chief, usually addressed as King. But there was a problem. The king in that region was known for using the occult to manipulate and oppress people. He was also hostile to Christianity and made life difficult for anyone interested in it. But the king was so sick during Jeremiah's visit that he could not eat. "He had done all he could to get well," said Jeremiah, "but failed."
Jeremiah's team gathered a crowd from that dangerous, unreached people group and shared the audio-visual Open Bible Stories slide presentation in that group's heart language. It was the first time any of them had ever heard the gospel! The next day, they visited the king.
Usually, one is cautious with such a leader, avoiding direct evangelistic messages. But Jeremiah felt a conviction to pray for the king. "A boldness filled my spirit, and I said, 'King, may I pray for you?' He said yes, and I held his hand."
"I began to pray, and then had an even stronger moving in my spirit to present Jesus to him as Savior," said Jeremiah. "I told him, 'You are the King, but you have someone who is the King of kings. If you believe, he will help you now.'"
"The King believed! Then, we led him in prayer, and he confessed Jesus as his Lord and Savior. And God healed him," said Jeremiah. "It was a very powerful experience."
Please pray for that king, who is now being carefully discipled by Jeremiah's team.
Want to help Jeremiah and his team do more? The Chadian Arabic Gateway Language project will equip Chadian Bible translators with the tools to translate Scripture for 78 unreached groups totaling more than nine million people. The 2023 Chadian Arabic Gateway Language project needs $618,000 in additional funding. In June, the remaining $26,000 of a matching grant expires. Double your impact by clicking the GIVE NOW button.
Join the Movement
Your investment will help empower church networks worldwide to translate the whole Bible into their ethnic languages for the very first time.
Give Now
Stories From the Field
Trust God and Get Going

"God, this is your journey, your work. Please help us get out of here." Let's imagine that your family and close friends have a passing acquaintance with the message of Jesus, and some might even be b...