Equip Churches Worldwide with Bible Translation Tools
Home
>
Oscarcito and the Yanomami
Oscarcito and the Yanomami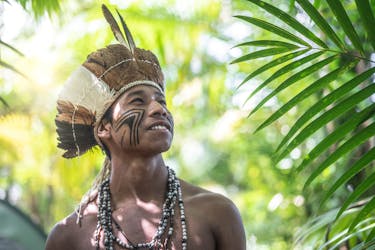 Hernán walked out to board a missionary's small plane deep in the South American rainforests. Then he paused, turned around, went back to his house, and did something unusual. "I feel like I should leave this here today," he said and put his prized copy of the four gospels and some Pauline epistles in the Yanomami language on the shelf. Hernan had worked on that translation for 27 years and carried it with him everywhere, until that day.
He and his missionary pilot friend took off, but something went wrong. On June 28, 1994, 52-year-old missionary translator Hernán Artigas Raga and his pilot friend passed into the presence of Jesus. The translation work stopped with his death, but the Yanomami translation survived.
Hernán never knew the people that would follow his footsteps in Bible translation, but God was already at work. Hernán had a Yanomami assistant, Mariano, who faithfully worked as his facilitator to translate scripture into Yanomami.
Fast forward to the 21st century, and Mariano's son, a community leader named Oscar, loved the Bible portions his father had worked on. Because of dialect changes, Oscar saw the need for a completely new translation. He was also looking for more ways to reach his people for Christ. When he heard about an amazing new translation tool called Open Bible Stories, Oscar knew he had found the answer. 
Open Bible Stories was designed by a team of Bible translators, theologians, and Bible teachers to provide essential stories from the Bible for evangelism and discipleship in a way that lays a solid foundation for theological formation and Church-Centric Bible Translation. OBS comprises 50 key Bible stories provided freely for translation and multimedia sharing in any language. unfoldingWord uses OBS as a translation-skills primer for new Bible translation projects, but the power of the Gateway Languages strategy doesn't stop with Open Bible Stories. Once a people group like the Yanomami have digital resources in their language, they are also equipped to translate scripture into neighboring language groups.  
A sustained focus on Bible translation is difficult for the Yanomami, a nomadic people. As subsistence farmers of yucca, bananas, pineapple, and a few vegetables, they are almost always on the move to the next harvest. When the crop is in, everyone helps—everyone, that is, except Oscar's son, Oscarcito. "You stay here and continue the translation work," his community said. "What you are doing is too important."
Oscarcito grew up watching his father, who is both pastor and community leader, work with missionaries on the translation project. Like every boy, he wanted to know how he could help Dad in his work. God's Word took hold in his heart as he grew, and Oscarcito's desire deepened. Now in his twenties, the roles have shifted. With unfoldingWord's high-tech tools, Oscarcito has taken over the project leadership! "My biblical vocabulary is deeper," he says. "I can study the Word of God better, and with the unfoldingWord tools, I am more organized and work faster."
Oscarcito and his team are now back-checking the Yanomami Open Bible Stories for accuracy. Until now, the only way the Yanomami believers could hear scripture was to recite verses with their pastor in Spanish, but they could not understand what they were learning. "Soon," Oscarcito says, "my brothers and sisters will be reading the Word of God in our language for the very first time, and they'll understand it!"
Join the Movement
Your investment will help empower church networks worldwide to translate the whole Bible into their ethnic languages for the very first time.
Give Now
Stories From the Field
Trust God and Get Going

"God, this is your journey, your work. Please help us get out of here." Let's imagine that your family and close friends have a passing acquaintance with the message of Jesus, and some might even be b...