Equip Churches Worldwide with Bible Translation Tools
Home
>
A Scrap of Paper that Changed a Life
A Scrap of Paper that Changed a Life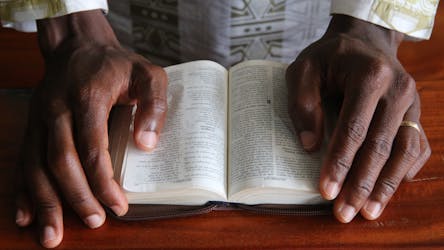 It was 2006. A young Islamic man, walking home in Khartoum, Sudan, found a scrap of paper that changed his life and began his journey to the forefront of Church-Centric Bible Translation. His name is Samir*.
In large Arabic print, the paper read, "God is Love," followed by several Scripture verses. "I had never heard this before," he said. "In Islam, God is not love. So, it surprised me. I read all those verses. God is love! That paper was a miracle to me."
Later that year, Samir fled war-torn Sudan for Ethiopia. He says, "The paper had vanished, but one night Jesus appeared to me, a very bright light, in a dream. He said he loved me. Nobody preached the gospel to me, but I knew that something inside me had changed. Later on, I surrendered my life to him."
Through unfoldingWord's partnership with Greater Reach Alliance, and because of the generosity of friends like you, Samir is now working to translate Open Bible Stories and other Bible-translation tools into Sudanese Arabic.
When they finish, the translation gates will open for more than 100 language groups in Sudan, and people who never read that God is love will have that message forever. Thank you!
Join the Movement
Your investment will help empower church networks worldwide to translate the whole Bible into their ethnic languages for the very first time.
Give Now
Stories From the Field
Ten Times Faster

Imagine you are ordering a new internet connection or cable TV or maybe something new from Amazon and you get the message saying, "Your town is too remote and we can't serve your area at this time. We...