Equip Churches Worldwide with Bible Translation Tools
Home
>
Maryam the Librarian
Maryam the Librarian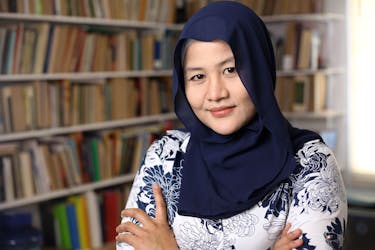 Maryam was a little girl living near the Iran/Iraq border when war broke out in the 1980s. When she was still very young, her family moved to Tehran to escape the fighting, but the move did not fill the void.
"We lost everything, our house, possessions, friends, and relatives," says Maryam, who lectures for American universities in addition to her Bible translation work with 222 Ministries (now Transform Iran). "I felt like a victim, often asking, 'Why is the earth full of hate and misery? Am I really alone? Is there a God watching over me or not?'
"I grew up with memories of those who had died. Absence was like an entity in my heart." The house that her parents found in Tehran was near an Armenian church — a church, as it turns out, with a bookstore. Her brother bought a Farsi New Testament, and Maryam had a powerful urge to read it, finishing it in two or three months. As she read, God spoke to her.
"I learned that the only way to secure peace on earth is through Jesus Christ," she says. "I realized that I was unconditionally loved. All those years when I was heartbroken and lost, he had been watching over me and protecting me. One night I knelt in my room and asked Jesus to save me and become the Lord of my life. And he did. He really answered."
Maryam knew she needed to be part of a church, but she thought the church with the bookstore only worshiped in the Armenian language. She wasn't comfortable with that. Then one day, a friend asked Maryam to buy her a New Testament at the bookstore. As she was leaving with her purchase, the salesperson said, "Sister, our church services are in Farsi."
"That was exactly my question!" she says. "Services are in Farsi, so I can participate!" The following Sunday, she went.
Maryam the Librarian
Maryam was baptized in that church and was very active. She attended many Bible studies and served as one of the church librarians for about ten years, a critical role because the Islamic Republic of Iran restricted the publication of Christian literature. But Maryam had an advantage: Because her father was fluent in English, she had grown up speaking and reading it. That skill became very important to her work with the church.
"At that time, only the New Testament was available in Farsi," she says. "So, I was reading the rest of the Bible in English." She also translated Christian literature and movies from English into Farsi for the church.
Eventually, Maryam led a team that translated and compiled the Bible Encyclopedia in Farsi, a 10-year project over 1,000 pages long. That work gave her the experience she would need for a much greater task, translating the Bible itself.
Before coming to America, Maryam lived and worked all over Iran among many language groups. She knows their desire, like hers as a young girl, to hear the Word of God in the language they know best. Then she was invited to work with 222 Ministries on revising Biblica's Living Bible in Farsi. Now she works with the 222 Ministries/unfoldingWord/Biblica Persian Gateway Language project to make the Bible available in the heart languages of millions of Iranians who long to know a God who speaks their language.
"When I was very young," says Maryam, "I gave my heart to Jesus through reading the Bible. So, I know the Bible is important. We have to translate it into different languages because people need it. Sometimes we don't even need to talk. We have to give them the New Testament, the gospel so that they can read and find Jesus. We found him through reading the Bible because the Holy Spirit is working, not us. We are just tools."
Join the Movement
Your investment will help empower church networks worldwide to translate the whole Bible into their ethnic languages for the very first time.
Give Now
Stories From the Field
Trust God and Get Going

"God, this is your journey, your work. Please help us get out of here." Let's imagine that your family and close friends have a passing acquaintance with the message of Jesus, and some might even be b...