Equip Churches Worldwide with Bible Translation Tools
Home
>
Inside a Church-Centric Bible Translation Workshop
Inside a Church-Centric Bible Translation Workshop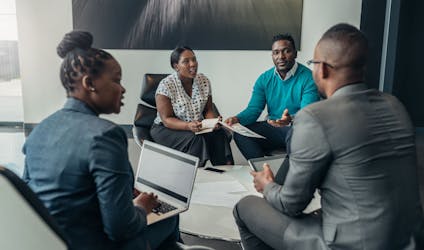 A large conference room in sub-Saharan Africa is filled with 45 Sudanese men and women. Gathered around tables in groups of five or six, laptops open, with soft conversations punctuated by occasional laughter, they look like any healthy team moving a business forward. But there's a difference: Their business is Bible translation, and they're translating Scripture in one of the world's places that is most hostile to Christianity.
Welcome to unfoldingWord's partnership with Greater Reach Alliance, the church-planting and discipleship ministry that is breaking new ground for the unreached people groups of Sudan. unfoldingWord began working with Greater Reach in 2021.
The plan was ambitious: Train a hand-picked team recruited from some of the most challenging refugee camps in this war-torn country. Use unfoldingWord's digital tools to translate the Bible into Sudanese-Arabic, the Gateway Language to 133 unreached people groups and 44 million people.[1] Then equip them with theological fundamentals to deeply root them and the churches they plant as they translate. And finally, entrust them to multiply themselves by training other Sudanese bible-less language groups to do the same.
We believe that the Gateway Language strategy is the key that unlocks exponential growth in Bible translation capacity. It moves the global church away from being dependent on others for translations. It moves them into a position of interdependence and expanded Bible translation capacity.
Join the Movement
Your investment will help empower church networks worldwide to translate the whole Bible into their ethnic languages for the very first time.
Give Now
Stories From the Field
Trust God and Get Going

"God, this is your journey, your work. Please help us get out of here." Let's imagine that your family and close friends have a passing acquaintance with the message of Jesus, and some might even be b...