Equip Churches Worldwide with Bible Translation Tools
Home
>
Zafar's Favorite Tool
Zafar's Favorite Tool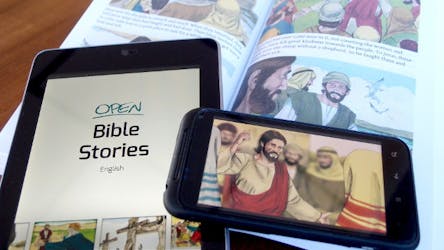 This year, unfoldingWord completed the initial training of the Russian Gateway Language team. All 50 Open Bible Stories and nine Scripture Book Packages are now available in Russian, serving as the Gateway tool for 540 other languages in Central Asia to have the Scripture in their heart languages for the first time.
A church-planting ministry led by a man we'll call Zafar is translating Open Bible Stories from Russian into one of those Central Asian languages where evangelism and Christian literature are illegal. Zafar shares early PDF versions on the phones of friends and family. Open Bible Stories communicate the gospel so well that they are now one of Zafar's favorite tools for evangelism. The phones keep this treasure out of sight of the authorities in the same way that the wise men had to outwit Herod to protect the baby, Jesus.
As Herod threatened the baby Jesus, so Zafar's government opposes the gospel, but the Word of God continues to penetrate the darkness.
Join the Movement
Your investment will help empower church networks worldwide to translate the whole Bible into their ethnic languages for the very first time.
Give Now
Stories From the Field
Iran: Bibles in every language

222 Ministries President Lazarus Yeghnazar dreams of the day when his country, Iran, will have Bibles in every local language. Using unfoldingWord's translation tools and Biblica's newly-revised Farsi...