Equip Churches Worldwide with Bible Translation Tools
Home
>
Open Bible Stories open doors for Gospel in Venezuela
Open Bible Stories open doors for Gospel in Venezuela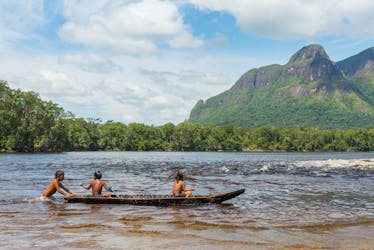 For Piaroa Christians like Alejandra, having unfoldingWord's Open Bible Stories translated from Spanish into her heart language means more than nice bedtime stories for her kids. It means giving them a way to understand God and his love in a powerful new way. 

The Open Bible Stories cover the entire scope the Bible, from Genesis to Revelation, with 50 carefully selected passages that are available in a Creative Commons 4.0 Share-Alike license. They are often the first texts used to train new translators how to use unfoldingWord's Bible translation resources to carry out the Gateway Language Strategy — a methodology built on the idea that by translating Scripture and digital tools into the world's most widely-spoken languages, churches from every language group on earth that have bilingual people in them can translate the Bible themselves with accuracy. 

And while the Piaroa translation team hasn't yet finished translating all 50 stories, they're close. And it's already making a difference in their families.  

"I have read the 50 Bible stories. We had read those stories in Spanish before, but had not understood them well," Alejandra says. "Today, we can study everything in our own language, and our hearts have been captured. For this reason, we want to finish the translation in good form, so that our little children, our grandkids, and those after us can understand it also." 

Translating Open Bible Stories into Piaroa represents that next logical step for the Spanish-speaking translation team led by Pastor Julio and his wife, Teresa. The team has fully embraced the Gateway Languages Strategy, and they are translating unfoldingWord's entire suite of Bible translation resources — digital tools and content, plus training — from English into Spanish. As they get resources translated, they want to use them immediately to translate stories and Scripture into lesser-spoken languages like Piaroa. 

Those resources — translationCore, translatioNotes and translationWords among them — are the fundamental tools that churches around the world are using to do Church-Centric Bible Translation.  The couple, who have been in ministry in Venezuela for more than 25 years, started Fundación Idiomas Puentes mainly to train other people and churches to use unfoldingWord's tools to translate the Bible accurately for themselves. 

"We are looking at the future and seeing the multiplication and optimization of the results in people's lives, even in the short term, being impacted by the Word of God," Julio and Teresa wrote recently. "For us, as a working team, we can see that this opportunity, this way of doing Church-Centered Bible translation, this new paradigm is going to have an enormous impact on everything that pertains to Bible translation and to other things, leading to the breakdown of traditional schemes and structures.  

"Most important of all, in this new paradigm of Bible translation, the primary focus is not in producing a finished product, a translated Bible — no! Our focus is on a mature church in each ethnic group, a Bible in every people group. For these to occur, it is indispensable that there be a Bible in every heart language." 

The Piaroa were first minority language group in Venezuela to embrace Church-Centric Bible Translation. Alvin, a Piaroa minister who serves with the translation team, headed up the group that translated and quality-checked the Piaroa Open Bible Stories. A primarily rural people group from the southern part Venezuela, the Piaroa people already have a Bible in their own language, but they want to do a new translation to better reflect how modern Piaroa people talk. Now that the Open Bible Stories are nearing completion, Alvin hopes a new translation of the Bible itself will soon be next. 

"I want my Piaroa brothers to have a Scripture where they can read, understand and reason the Word of God for their life," Alvin says.

For believers like Alejandra, it really is all about what she and other parents will pass on to the next generation of Piaroas. 

"What we have learned we must teach to our children, our grandchildren and that is how we must live," she says. "And all because we have learned the Word now in our own language." 

To help people groups like the Piaroa translate the Bible accurately from Spanish into their heart languages, please visit ufw.io/glspanish.
Join the Movement
Your investment will help empower church networks worldwide to translate the whole Bible into their ethnic languages for the very first time.
Give Now
Stories From the Field
Iran: Bibles in every language

222 Ministries President Lazarus Yeghnazar dreams of the day when his country, Iran, will have Bibles in every local language. Using unfoldingWord's translation tools and Biblica's newly-revised Farsi...