Equip Churches Worldwide with Bible Translation Tools
Cow-Tech Gospel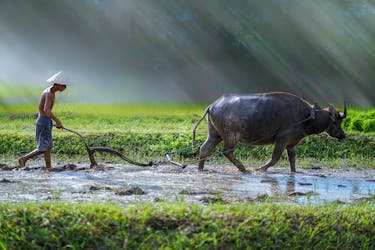 A farmer wearing a conical hat works his rice paddy with a plow pulled by his cow. Everything about the scene, his simple tools, the plow, the cow, and the watery field, speak of primitive agriculture. The picture from this Southeast Asian land could be a thousand years old, except for one thing: a high-tech audio device hangs from the cow's horns. From it, a man's voice in the farmer's heart language is reading God's Word, explaining and applying it as he goes. The farmer listens as he works all day because he's never heard anything like it. God's Word is changing his life, giving him hope, and filling him with new purpose.
Tens of thousands of similar devices now enrich the lives of farmers, factory workers, and tiny house fellowships throughout the country, despite governmental antagonism. Yet access to the Bible in some of their heart languages has exponentially increased the demand for Bible translation in other languages that are still waiting. Indigenous church leaders attempted to address the need through traditional Bible translation methods. They still need over 30 new Bible translations to provide the whole Bible for their whole nation. On learning of the multi-year waiting list for help from traditional Bible translation agencies and then a nine-year process for just one Bible translation, they decided to do it themselves. They created their team translation process but were concerned about accuracy.
Then, they heard of unfoldingWord. They began adapting our open-license Bible translation tools and resources and resolved their accuracy concerns. "What is the most accelerated plan we can make?" they ask, obviously excited.
Since the project started in 2021, this team has completed all 50 unfoldingWord® Open Bible Stories and the New Testament in five indigenous languages in their nation.
Open Bible Stories and New Testament translations in four more languages are underway. Audio editions of the completed New Testaments will begin recording soon so more people can hear God's Word in their heart language.
The Southeast Asia Sign Language team, representing more than 2 million people, has recorded more than 50 of the 119 passages in the Chronological Bible from the Deaf Bible Society.
With unfoldingWord's tools, this team can translate the New Testament in one year and the Old Testament in only 36 months, all with excellence. They can complete the entire Bible in about four years.
Join the Movement
Your investment will help empower church networks worldwide to translate the whole Bible into their ethnic languages for the very first time.
Give Now
Stories From the Field
Trust God and Get Going

"God, this is your journey, your work. Please help us get out of here." Let's imagine that your family and close friends have a passing acquaintance with the message of Jesus, and some might even be b...